Liberty Wall Art from Scraps
A beautiful wall art (and huge) project that can bring a festive spirit to your summer living space. Uses scrap boards. Distressing required.
HANDMADE FROM THIS PLAN >>
So who here has a scrap pile?  Made up of mostly 1x4s?
GOT 1x4s?
If you've been building outdoor furniture, the odds are good that you've got quite a pile of 1x4s laying around.  Don't throw them away!  I'm working on a collection of plans to make good use of all those scraps.
Today, we will start with this room maker Liberty Wall Hanging (or I could see it propped up against the wall on the floor too!).  We loved Pottery Barn's Planked Patchwork Flag, but not so much the price.
If you quilt and are crafty, this is definitely the project for you.  In fact, I feel like I am quilting with wood on this project!
WE LOVE PALLETS
Well, you know we love pallets.  Since this project is mostly made up of 1x4 boards, if you have the time and gumption, taking apart a few pallets will provide most of the boards for this project.  The pallets will also add tons of character to the project because of the distressing.  Most pallet boards are 1/2" thick as opposed to 3/4", so there will be a nice depth contrast between the pallet boards and the 1x3s and 1x2s.  You will need approximately 10 pallet boards at 40" long, so about 1 to 2 pallets worth.
DISTRESSING
This is a good project to master your distressing skills.  I recommend painting the pieces before assembling, distressing prior to assembly.  I also love the idea of using a hammer and nails to attach the boards to the back plywood (and glue of course).  I like to use little brad nails with shiny silver heads.
like these ones from Lowes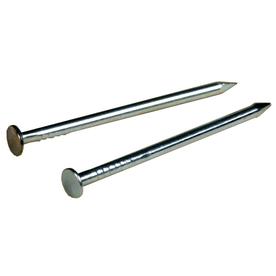 That way you can see the shiny heads!
MODGE PODGE
I would love to see someone modge podge old blue jeans to the wood and bright fabrics, mixed in with some painted wood or some naked pallets to get this look.
Shopping List:
1 – 4′x4′ sheet of plywood, 1/4″ to 1/2″ thickness (can be OSB)
5 – 1×4 Furring Strips, 8′ long
3 – 1×2 Furring Strips, 8′ Long
2 – 1×3 Furring Strips, 8′ Long
Scrap 1×6
1″ nails
Glue
Paint and Distressing Materials
120 grit sandpaper
primer
wood conditioner
paint
paint brush
Tools:
measuring tape
square
pencil
hammer (can be substituted for brad nailer with a nail punch)
safety glasses
hearing protection
Dimensions:
Overall Dimensions are shown above. It's big, as in half a sheet of plywood big. It will make your room feel Independence Day festive in an instant.
Cut List:
9 – 1x2s @ 12 1/2″
8 – 1×4 @ 12 1/2″
2 – 1×4 @ 8″
1 – 1×6 @ 8″
4 – 1×3 @ 16 1/2″
1 – 1×4 @ 16 1/2″
2 – 1×4 @ 7″
2 – 1×4 @ 10 1/2″
5 – 1×4 @ 9 1/2″
4 – 1×2 @ 8 1/2″
3 – 1×4 @ 8 1/2″
4 – 1×3 @ 16 1/2″
5 – 1×2 @ 13 1/2″
2 – 1×4 @ 7″
2 – 1×4 @ 10 1/2″
2 – 1×4 @ 18 1/2″
1- 1×4 @ 13 1/2″
4 – 1×3 @ 13 1/2″
2 – 1×4 @ 14″
4 – 1×4 @ 19″
4 – 1×4 @ 10″
Step 1:
CUTTING AND LAYOUT
The diagram above shows the board widths in the project. The red boards are 1x4s, the turquoise are 1x2s, the green are 1x3s and the one blue board is a 1×6. Layout as shown above. Don't stress if the boards don't come out exactly even, part of this projects appeal is the hand made character.
Step 2 Instructions:
PAINT AND DISTRESSING
Paint your boards and distress as shown above.
Step 3 Instructions:
NAILING DOWN
With glue and 1″ nails, start at the upper right corner, and work your way right, gluing and nailing down boards. Keep the top edges flush and check for square as you go. The plywood back will be slightly smaller than the top boards, as shown above.
Preparation Instructions:
You may wish to spray the completed project with a spray sealer or poly. I like the idea of leaning the finished project against the wall, but you could also attach a heavy duty picture hanging bracket and hang the wall art to a stud in your wall.