A beautiful modern daybed plan, posted by one of our readers. Also special thanks to mairanellis for sharing her photos!
Every time I visit our Community, I find myself inspired, connected, and generally, a little bit smarter.  On a recent visit to our Community, I found myself VERY inspired and TONS smarter, special thanks to the brilliance and resourcefulness of one of our readers, Jrsmrs.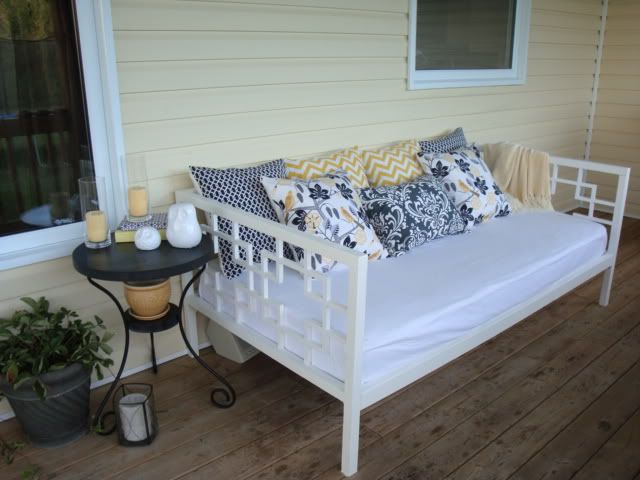 Fifty bucks. Yeah, this is the reason I did not get an iPhone for my birthday.  Because I'd rather have ten daybeds like this one than an iPhone.
I was quite happy with a handmade card from Grace and some help with housework from the Ram.  And all the lovely, caring, genuine well wishes from you!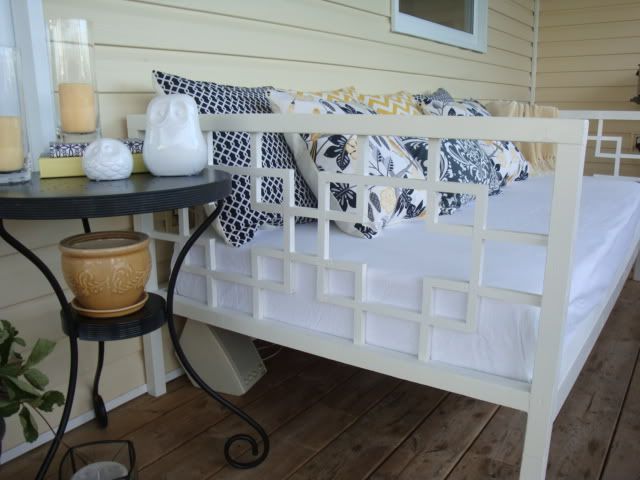 What about you?  Would you rather have amazing furniture on the cheap, or expensive electronics?
And special thanks to JRSMRS, you too can have this daybed.  Here is her post:
Ok, so here's my attempt at a plan to show how I made this bed. Hopefully it's clear enough to understand, but if not, just ask. Ana, I'm sure you'd be able to make up a better one, so if you're so inclined, have at it!
FYI, These are very crude drawings, and are not anywhere close to scale!
So this picture shows the dimensions of the arms, which was the part I did first using 2x2s: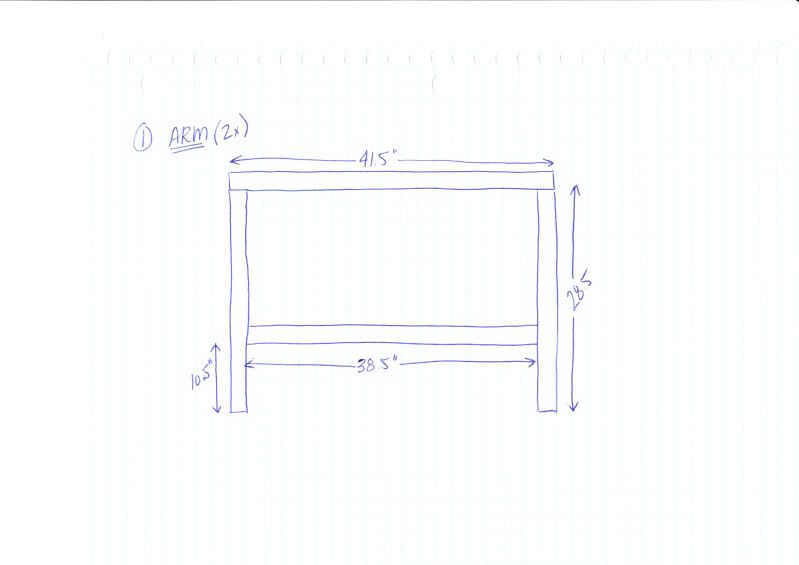 Just try and keep things square while first screwing in the top of the arm to each leg. Then screw in the bottom cross-support.
Then what I did was lay the finished arm on level ground (or a table), and fit all the decorative pieces in to place. You do have the option of having the pieces float in the middle of the 2x2 arm pieces (so that there is even spacing on each side of the 11/16"), however I liked the look better- and it was easier- to just lay them right on the ground within the arm, so that they are flush with one side of the arm (which would be the underside that lay on the ground while I was working, and which I then used as the inside of the arm). The decorative pieces I used were 11/16" square, but if you decide to use a different size, that of course will change the measurements. This pic shows all the measurements I used :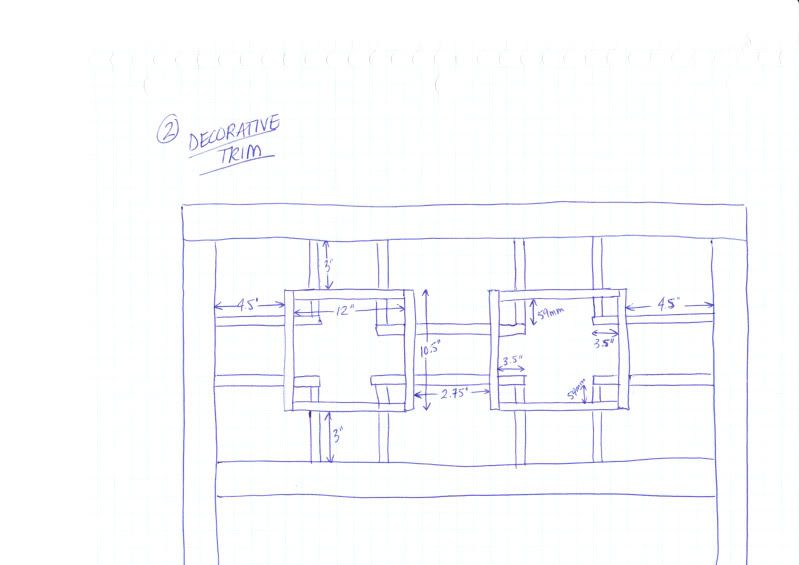 As you can see, my squares were not perfectly spaced, as the outside horizontal pieces are 4.5" while the horizontal pieces that separate the 2 squares are only 2.75" so feel free to mess around with the measurements if you want everything perfectly even.
So in order to secure all the pieces, I first nailed/screwed the ones in place as shown here: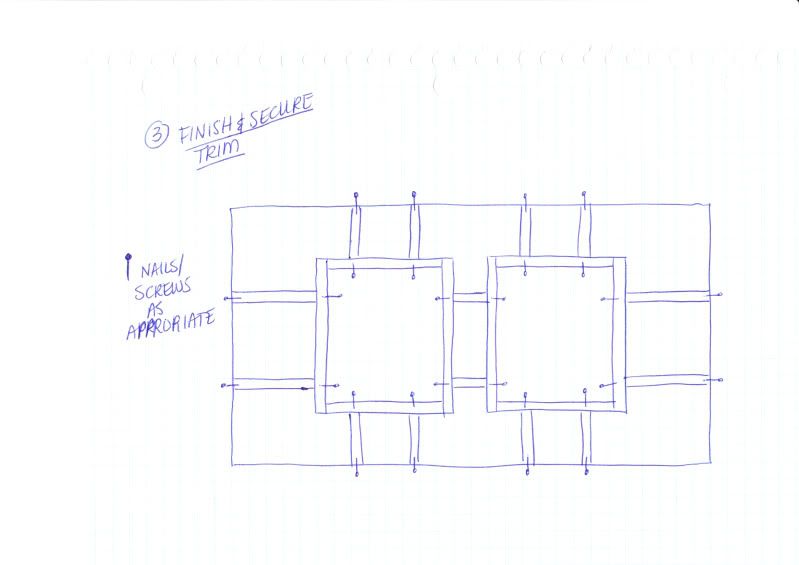 Then to fit in the remaining little L-shaped pieces (59mm x 3.5") that fit within the squares, I simply made each L individually by nailing them together and then toe-nailing them (with added wood glue) into the squares. Of course if you have fancy equipment, I'm sure there's an easier way, but as I said, I've got just the basics at the moment.
Finally, when the arm is complete, finish the bed by screwing on the front and back pieces labeled A/B/C here: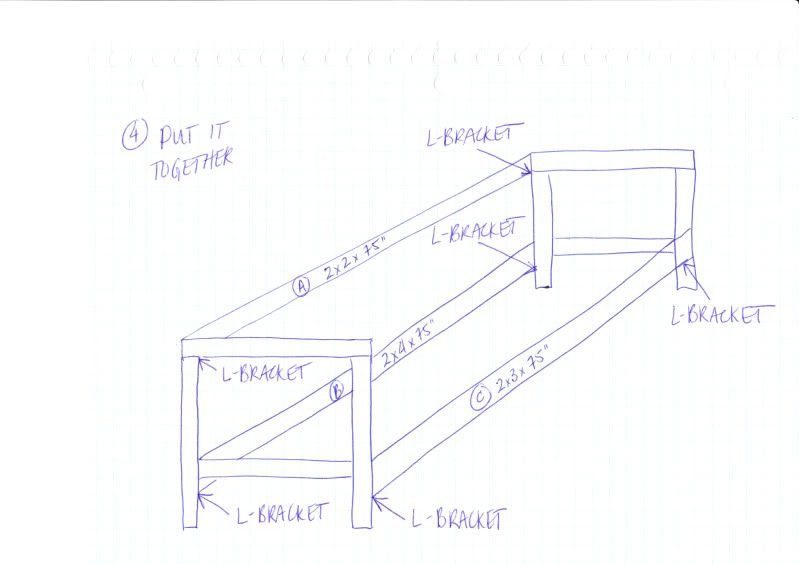 I both screwed each piece into the arm and added 1" L-brackets that I got from HD for extra stability. You can see from the pic where I placed them underneath each front and back piece.
As you can see from picture #1, I set the 38.5" bottom arm supports 10.5" up from the ground, so when placing the B and C pieces, I lined them up so the tops of them were flush with the tops of the bottom 2x2s on the arms.
Not shown in the pics, you then need a thin piece of wood to screw onto the inside of each of B and C pieces which will act as a support for your slats that hold up the mattress. I actually had an old twin sized Ikea bed that I took apart for its slats and slat supports, so that was easy enough. If not, any piece of wood 2x2 or smaller would work fine. You will obviously need two of them, and they will each be about 73" long and screwed onto the inside of B and C, 1.5-2.5" (depending on the size of the support you use) below the top of them, so they will allow room for the slats to be concealed and the mattress will sit nicely just below the top of the front piece. If you don't have ready-made slats like I did, several pieces of 1x2 or 3 wood cut to 38" will fit nicely within the front and back pieces B and C, while still sitting on top of the slat supports.
Also, between back pieces A and B, I cut about 6 or 7 16.5" pieces of 2x4 to screw in to act as vertical back rest supports.
After everything was done, I sanded the whole thing really quickly just to get rid of any burrs, filled in nail/screw holes and caulked all the points where the decorative pieces meet eachother just so it would look nice and uniform. Then a few coats of white paint and I was done!
Whew, so hopefully that wasn't too confusing, but if there are any questions, of if I forgot anything, just let me know!
Fits standard twin mattress