We are wall shopping.
Not shopping for the color of the wall, or the finish on the wall. 
No, we are actually shopping for walls themselves.
And then
poured concrete
in the forms with rebar uprights placed for tie-in of the walls to the footers.
And now it's time to build walls.
But what type of walls should we build?
There are basically three main types of exterior wall construction that we considered.  Stick framing, SIPS and ICFs.
Stick Framing
This is our comfort zone.  We've built our garage, cabin and house out of lumber, so stick framing is like an old habit to us.  
Advantages of Stick Framing
Traditional building method so resources (both labor and materials) are readily available.
Tried and true - we know how to build with studs, what to expect, and there will be few surprises.
Flexible - if you change your mind on a window location or decide to add on, traditional stud walls are very forgiving and flexible.
It's easy to run utilities and plumbing through walls
The scrap pile - oh yeah! - that's how my Farmhouse Bed came about.
Disadvantages of Stick Framing
Time consuming - every board has to be cut and nailed in place, board by board.
You have to insulate and install vapor barrier.
Could be better insulated (lower energy costs in the long run) methods of building.
Finishing out has to be "on stud" so increases waste.
Structurally Insulating Panels (SIPS)
Think of SIPS as huge sections of walls already made.  As SIP is basically a foam core sandwiched between OSB panels.  I love the idea of using the SIPs over a post and beam frame (as shown in image below) but you can also build with just the panels.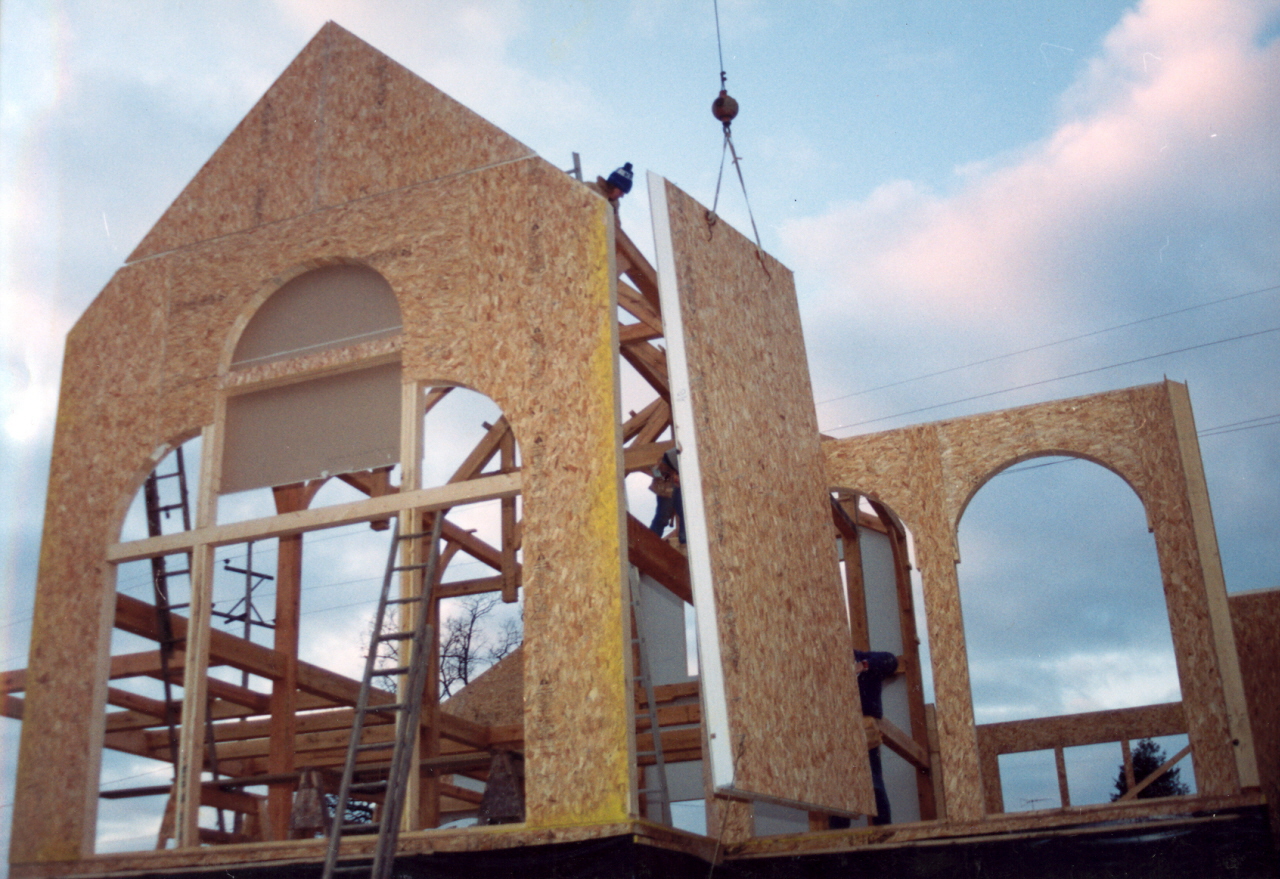 Advantages of SIPS
More energy efficient than stick framing because there's a solid core of foam
No need for a vapor barrier
Decreased on site building time (in other words, the house goes up much faster)
Easy to finish out
Less waste (panels come precut from factory)
Disadvantages
Higher building cost
Requires advanced planning and ordering
Additional shipping costs
Not for DIYers . . . you are going to need a crane to set these walls in place.
Insulating Concrete Forms (ICFs)
The best way I can describe ICFs is legos.  Basically, you build the exterior of your house out of foam blocks that look like giant legos (but are lightweight enough for me and Grace to handle) that are hollow in the insides.  Once your walls are all built, you pour concrete in the hollow centers.  This gives you a solid concrete exterior wall, that is insulated on both interior and exterior with foam.  The blocks have little black webbing strips that you can screw drywall or siding too.  It's really a slick system.
Advantages of ICFs
Easy to assemble on site by DIYers
Can be customized easily for any wall shape and size (arches, corners, and even radius walls)
No vapor barrier or insulating - you stack the blocks, pour the mud, put the roof on and turn the heat on (well, not THAT simple, but you do loose quite a few steps as compared with stick framing)
Advanced building system that has considered EVERYTHING
You get a concrete house that is hurricane, tornado and in general highly weather resistant
It's concrete, so fire also becomes a lesser concern
Higher R Value and no drafts means lower heating bills
We've used ICFs before on the crawl space of our home, so have some experience working with this type of exterior wall construction.
Manufacturer support system and service that you just don't get from a 2x4.
Disadvantages of ICFs
Lots of preplanning - it's concrete, once you pour, it's literally set in stone.
Learning curve for DIYers to understand the entire system.
So what is it going to be?
#1 Legos with the Concrete Core
#2 Good Ole Stick Framing
#3 Instawalls
We choose . . . . da da dum . . . 
To be continued . . .