I'm super excited to be teaming up with the Home Depot this year to host DIHWorkshops!!!  This post is sponored by the Home Depot but all  opinions are my own.
Hi everyone!  Happy Monday!  Hope you had an awesome weekend!!!
I'm really excited this week because I get to build a project with some of you this Thursday!!!
I'll be heading to Anchorage to lead the DIHWorkshop at the Tudor Store!  If you live in or around the Anchorage area, or have friends that would be interested in coming, I'd love to meet my fellow Alaskan builders!  You can register here so we can know to expect you.
Also, the following other bloggers are hosting in their local areas - 
Maryann from Domestically Speaking - I just adore this paint finish and smaller size of Maryann's outdoor serving station.  Maryann will be leading the workshop in Burbank, California.
Amber from Damask Love - I love how Amber used this serving station as a mail station inside!  Amber will be leading the West Palm Beach workshop in Florida this Thursday.
Kelly from Live Laugh Rowe - How smart is this bottle opener on the side?  I love the crisp white paint of Kelly's beverage serving station.  Kelly will be leading a DIHWorkshop in St. Louis, Missouri.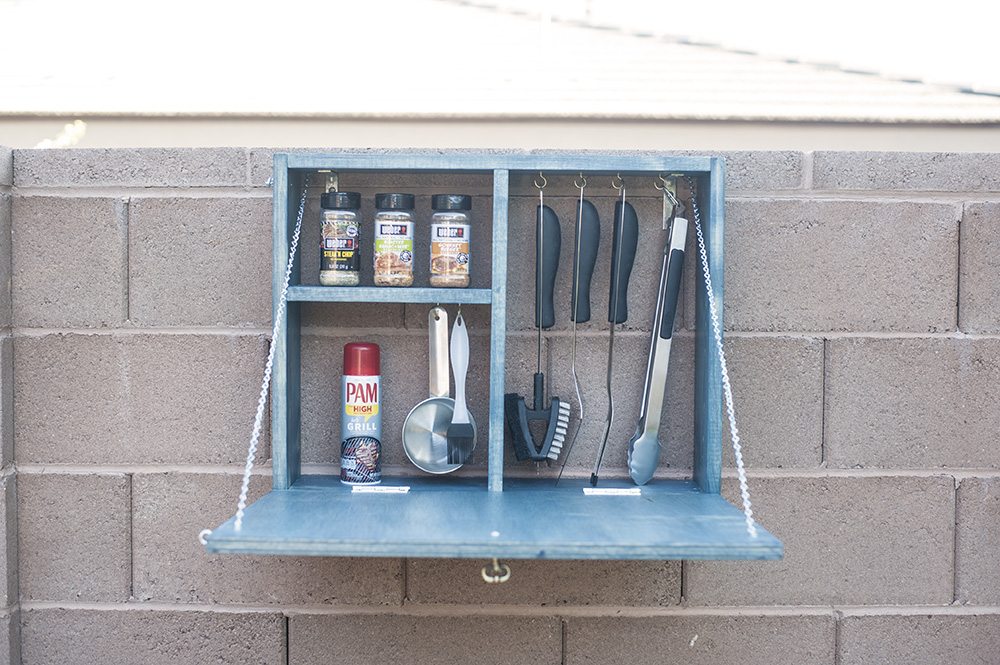 Brooke from All Things Thrifty - I love this!  Brooke used her project to hold her grilling accessories and supplies!  What a great idea to add organization to your outdoor grilling area.  Brooke will be hosting her workshop in Salt Lake City, Utah.
Erin from DIY on the Cheap - Erin fancied her serving station up with paint!  You can use paint to make your outdoor serving station beautiful when it is closed, and functional (and still beautiful) when it is open.  Erin will be leading the DIHWorkshop in Charlotte, North Carolina.
Sarah from The Yellow Cape Cod will also be hosting a DIHWorkshop in Grand Rapids, Michigan.
And of course, a very nice and knowledgeable associate at the Home Depot will be hosting workshops in other areas of the country too!  So please, register, so your store can know to expect you!
We've got you covered - from Alaska to Florida!  
You'll love this project too!  So many uses and so fun and easy to make.  This is one of those projects that once you make it, you are a million times more in love with it.  My husband, who is so not into little decor projects, even commented on how much he likes it and how functional it is!
I have mine set up as a beverage serving station.  It's perfect for not only serving beverages off of, but with the chain supports on the side, plenty sturdy for light food prep too -
It's really nice how you can just tuck everything inside (like cups and straws and cutting boards) and close the project up -
No chasing down party supplies when the wind blows or running outside to cover everything when it rains.  This serving station is just perfect for helping out with entertaining!  
Of course, you could also use it inside for so many other uses too!  My daughter would love to convert it to an art station, and I could even see it used as a vanity.
It's so easy to build too!
I cut all my boards on my miter saw - this makes things fast and easy.  But you could also cut with a circular saw or jigsaw, or even a handsaw.  If you can't cut your boards, most Home Depot's offer cutting services for either free or a very small charge, so you could go that route too.
Since I am going to use nails to attach my project together, don't skip the glue.  
Then just nail the four corners of the box together.  
Then add the dividers - you can add the dividers however you like to suit your needs.  Mine are just centered.
Then just add the finish - I used Dark Walnut by Varathane stain.  
Isn't that stain beautiful?  
I ended up making my flip down front 18-3/4" wide and attached the hinges to the bottom on the outside (the project is upside down backwards here).  Clamping the front to the shelf helped me keep the front in place while attaching the hinges.
Chain is a really sturdy but inexpensive way to add support for the sides.  Just use a pair of needle nosed pliers to open up the chain and attach it to the project.  I just attached with screws.  I also ended up attaching my chains to the outside because it seemed to be more functional that way.
Then just add a hook and eye to the top to keep it closed (or you could add it to the sides).  I love hook and eyes because they work really well, are easy to install, and are so inexpensive.
Then I just used L-Brackets to attach to the wall.  Make sure you hit studs when hanging.
Love it!!!
So seriously, grab your girlfriends - especially those that have been wanting to learn to build - and get down to the Home Depot this Thursday June 18th at 6:30 PM to see hands on how this project is made!  This is the perfect project, for a beginner, or even an expert builder, and you'll love the results.
Click here to register now to attend!
And don't forget to share your photos using hashtag #DIHWorkshop so we can see how your project turns out too!!!
See you soon!
XO Ana + Family
 *The Home Depot partners with bloggers such as me for DIH Workshop program.  As part of this program, I received compensation for my time.  They did not tell me what to purchase or what to say about any product mentioned in these posts.  The Home Depot believes that consumers and bloggers are to form their own opinions and share them in their own words. The Home Depot's policies align with WOMMA Ethics Code, FTC guidelines and social media engagement recommendations.