Been keeping a big - 12 foot long to be exact - secret from you!
A little while back, my friends at Ryobi challenged me and the hubs to design the perfect built-in workstation, that is actually doable by a beginner on a reasonable budget.
Now that's a pretty big challenge, because I'm not a girl that takes workbenches lightly.  No, workbenches must be designed and built with careful consideration and great thought.  It's your best tool.  Besides a manclamp, but we'll get to that later.
But there's more ...
Not only are we to design the perfect workbench, but also build that perfect built-in workbench
as part of a blogger build off, chopped style with some pretty talented competition!
It was alot of fun to get to spend some time with old friends Ashley and Whitney from Shanty2Chic and finally meet Ben from HomemadeModern, and all build together.
The hubs and I work together at home, so it was also fun to be able to work together on camera.  But we do have our moments ...
I just can't wait for the RyobiNation Blogger Build Off - Project Workstation to go live next week!  I'm so darn excited about our project, and everyone elses. Be looking out for it, you won't want to miss this big video!
You'll get a chance to vote on your favorite, but I think all the projects are winners for different purposes and uses.  
But there's one more thing.  RyobiNation is also challenging you to build your own perfect workstation!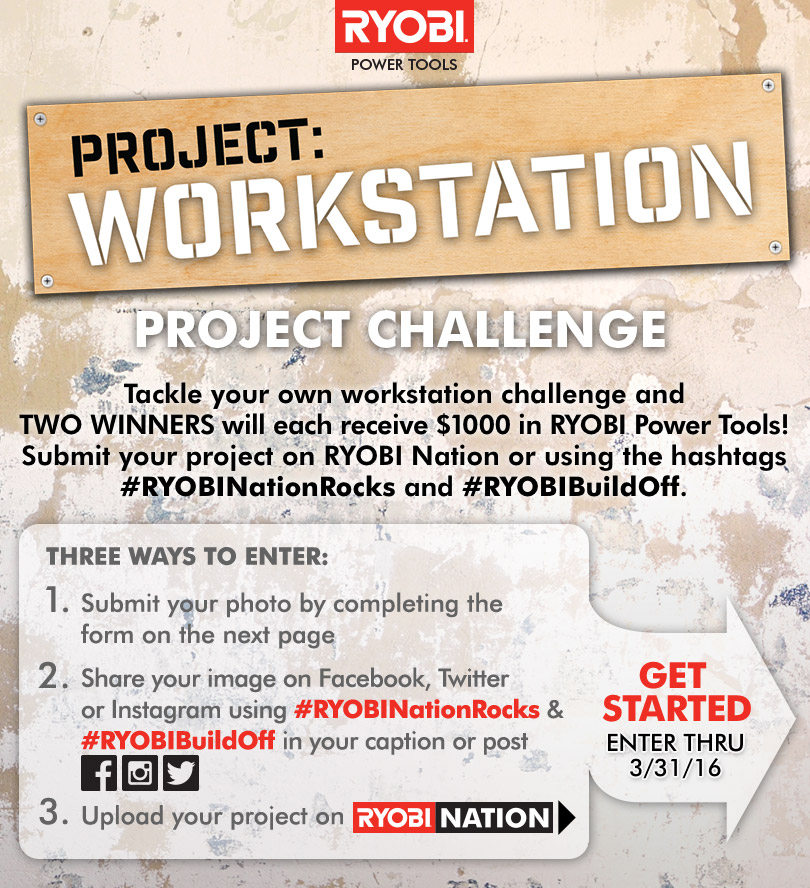 Yup, you read that right!  TWO WINNERS will each receive $1000 in Ryobi Power Tools to tool up their new workshop.
Can't wait to show you my workshop next week!
XO Ana